Wells on Wheels (WOW!) provides affordable, public transportation throughout Wells County for everyone regardless of age, race, color, religion, sex, sexual orientation, gender identity, disability, national origin, or ancestry. It could be to places of employment, childcare, trips to the doctor's office or hospital, shopping trips or to local events, etc
HOURS OF OPERATION:
Monday – Friday: 6:00 AM – 7:00 PM
(If trips are scheduled; last pickup at 6:30pm)
FARES: Senior citizens, age 60 and older, can ride within Wells County for donation only. All clients will be subject to fares for out of county trips. Out of county trips are scheduled for Tuesdays and Thursdays based on the first scheduled appointment until the van reaches maximum capacity.  All fees are based on one-way trips and are listed per person.  You must have exact change to ride, drivers do NOT carry cash. All fares are subject to change.  Current WOW! fares:
$2.00 for trips within Bluffton city limits
$5.00 for trips within Wells County
$20.00 for trips outside of Wells County up to 30 miles from Bluffton (Tues/Thur only)
$50.00 for trips 31-50 miles from Bluffton. (Tues/Thur only)
$1.00 for children under the age of 12 and accompanied by an adult. Children under age 12 traveling alone will be charged regular WOW! fares listed above.
NEED A RIDE TO WORK OR FOR CHILD CARE?
It is possible to have regularly scheduled trips such as to work, for childcare, or any other destination. Just call the WOW! office at 824-4WOW (4969) to set up your schedule.
WOW! IS A MEDICAID PROVIDER.
Contact Southeastrans at 855-325-7586 and request Wells County Council on Aging/Wells on Wheels to be your preferred provider for transportation.
Special Needs Clients: WOW! is ADA approved. We have wheelchair accessible vehicles, and our drivers are trained on mobility device safety and securement practices. We can safely transport all mobility devices, including portable oxygen or respirators and service animals. This information is available in alternative formats and we can also be accessed through the TTY Indiana Relay Number by dialing 711.
RESERVATIONS:TRIP RESERVATIONS MUST BE MADE AT LEAST 24 HOURS IN ADVANCE or we may not be able to assist you.
You may call 824-4WOW (824-4969) or 877-477-4969 to make reservations Monday-Friday between 6:00 a.m. and 6:30 p.m.  We schedule trips on a first call first serve basis. Calling as soon as possible for a trip will give you a better chance of assuring a ride.
The dispatcher will need the following information in order to schedule your ride:
Your name & the names of any other riders
Date you would like to travel
Pick up and destination addresses
What time you need to be at your destination
What time you would like picked up if applicable
PICK UP TIMES: We make every effort to be as prompt as possible. However, we may be up to 15 minutes early or late.  Please be ready 15 minutes before your scheduled pick up time. Please do not wait longer than 15 minutes to call after the scheduled pick-up time, please call 824-4WOW or 824-4969.
CANCELLATIONS: To ensure that we stay on schedule, the drivers are required to wait only 5 minutes for a passenger and then they are to proceed to their next pick up. Cancellations must be reported in advance to avoid a 'no-show' fee. If you do not report a cancellation, at least ½ hour prior to your scheduled pick-up and/or the WOW! van comes to pick you up, you will be charged a $10.00 'no show' fee.
PLEASE NOTE: WOW! is a curb-to-curb shared public transportation service. Reasonable accommodations made upon request. WOW is not a taxi. You may not be able to go directly to your destination if it is necessary to pick up other passengers along the way. Additionally, you may have to wait for other client's appointments.
INFANTS AND CHILDREN: An adult must accompany infants and children under age 4.  All children who are under 8 years old must have their own car seat or booster seat to use the service.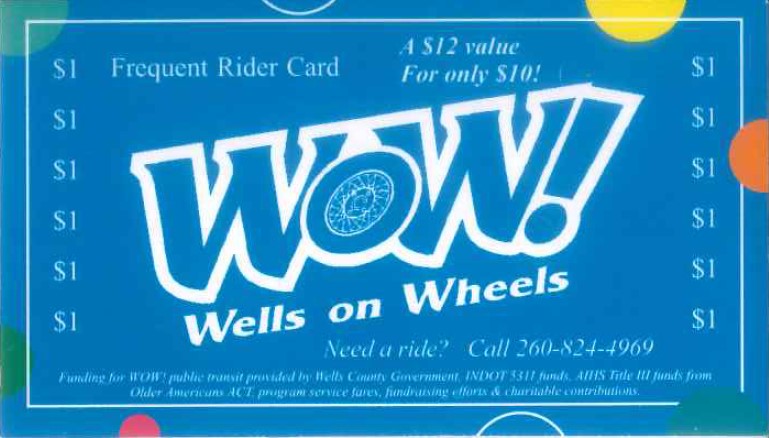 SAVE MONEY. . . Purchase a Pre-Paid WOW! Punch Card:
$10.00 FOR A $12.00 Punch Card!
WOW! cards may be purchased at the Wells County Council on Aging office located at 225 W. Water Street in Bluffton. We do not accept credit/debit cards. Please pay with cash or a local check only, please.